Watching the devastation and pain of Hurricane Harvey in Houston and Irma in Florida this past year reminds me of a terrible cyclone in Mozambique in 2000, in which a pregnant African woman climbed a palm tree to escape flooding and actually gave birth  – alone – during the storm! Along with the media in Southern Africa, I remember seeing the woman and her baby being dramatically rescued by a South African military helicopter team on SABC TV, as the picture reveals in this article.
The televised scene seemed even more incredulous given that a little over a decade or so earlier apartheid South Africa was embroiled in a cold war with almost all the "Frontline" African states of Zimbabwe, Mozambique, Namibia, Botswana and Angola and was carrying out covert operations and violence in Swaziland and Lesotho. Given that recent history, white soldiers in South African Defence Force (SADF) helicopters were seen as hostile enemies to be feared by African people. But in the 1990s the world watched Nelson Mandela walk free from prison and witnessed South Africa dismantling apartheid; in the process the South African National Defence Force (SANDF) became a different institution.  In March 2000 South African military technology and discipline was marshaled to rescue one African woman and her precious child, all alone on a palm tree. It was a beautifully affirming vision of change and humanity.
Oftentimes I have come to believe this is the most incredible display of pure spiritual strength and courage I have ever witnessed anywhere in the world, but it somehow reflects the human energy and life force of Africa itself. African women are radiantly beautiful and powerful… Now Rosita Mabuiango, the "miracle baby," is 17 years old and she and her mother represents another tremendous story of hope, another triumph of the human spirit. I see Rosita as a soul with a deep appreciation and reverence for life, whose simple presence is a great blessing.
'Miracle' baby born in tree during Mozambique floods to turn 17
But these days, the teenager does not consider herself special. "I'm normal, it's just a different way of being born," she said.
Rosita was born on 1 March 2000, four days after her marooned mother clambered into a tree to escape deadly floods ripping through southern Mozambique.
"I think it's God who chose that I be born that way," Rosita said while sitting in her godmother's house in the capital, Maputo.
Torrential floods had forced the heavily pregnant Carolina Chirindza and other family members into a tree with no food or water. While clinging to its branches, Chirindza, previously named in the media as Sofia Pedro, went into labour.
Her mother-in-law held a capulana (a long sarong) under her to catch the baby and prevent it from falling into the crocodile-infested waters. The baby was named Rosita after her grandmother.
"I was not prepared for this, but that's what God wanted," Chirindza, 39, said while sitting outside her house in Chibuto, a city 175 miles north-east of Maputo.
A journalist witnessed her and the newly born baby being lifted away by a South African defence forces helicopter after the birth.
After landing on dry ground, the exhausted mother cradled her daughter in drenched linen.
As Rosita approaches her 17th birthday, her mother said their survival was a "miracle for sure".
"Yes it changed my life, because now I have a house, I also have a job," said Chirindza, speaking outside a three-bedroom house donated to the family by the local municipality.
She was also given a job as cleaner by the district administrator, lifting her out of poverty.
Four and a half months after she was born, Rosita and her mother travelled to Washington to lobby the US Congress for expanded aid to help tens of thousands of Mozambicans affected by the catastrophe.
Rosita's treetop birth helped cast the spotlight on an impoverished country overwhelmed by floods. Nearly 800 people died in the disaster.
She became a rallying point for securing millions of dollars in international aid, to help those affected and to improve flood protection schemes that have prevented a repeat of the huge death toll.
A plaque has been erected on the mafureira (natal mahogany tree) where she was born.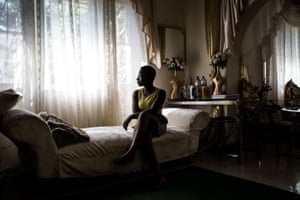 But Rosita is relieved the public attention has faded and that she enjoys a normal life, focusing on her schoolwork.
She wants to study petrochemical engineering, a strategic career choice with the recent discovery of gas reserves off the coast of Mozambique.
When not studying, she plays football at her Catholic school and for local junior clubs.
---
---
Categories: Africa